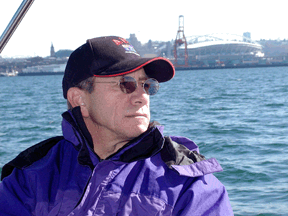 About
My name is Michael Ryan and I have been the owner of Rose Head Service since 1997.
Rose Head Service was initially started in 1992. With an increase in people choosing to live aboard their boats and the Port taking an interest, there became the need to accommodate those who needed regular service without the hassle of moving each week.
Even though there are over 2000 slips in Everett, I have found boaters don't need service any more often than once per week. I am a full time firefighter and work 24 hour shifts, so I have found once a week service suits my schedule while still accommodating boater's needs. I usually operate on Thursdays but my schedule changes occassionally when I am working my regular job.
I am flexible though and make an effort to come to the marina on short notice for service on other days or when my regular customers are leaving early, for a trip or vacation.
I also am a boater and tenant since 1997. My boat, a Hunter 34 sail boat "Kanga", pictured above is moored in Everett.
I sail regularly with Dean Sevon (Popeye's Marine and Kayak Center)aboard his Cal 39 "Mistral", for club racing with Milltown Sailing Association. The lower picture is of me at the helm just before dusk, with Possession Point behind us during the Round Whidbey 2010 race.
Here is a link to a 2000 story from the HeraldNet - Kristi O'Harran - Kristi's Notebook, when Kristi came to visit and ask about my service. "The Sailing Sludge Samaritan"